High Quality Custom Crafted Carpet Patchs and Seam Repair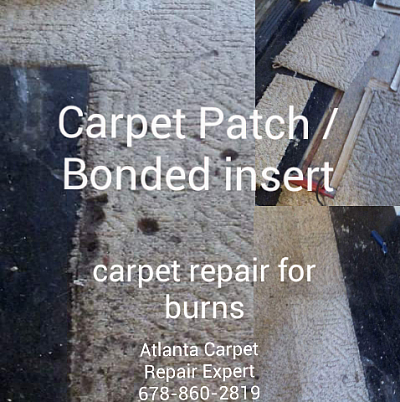 Atlanta Carpet Repair Expert has the most cost effective solutions for your damaged carpet.
A carpet patch, plug or saddle patch repair involves graphing and precision cutting of the damage and new donor piece. Then meticulously bonding together at a very high temperature  special materials and adhesives. The results are a highly wearable repair with minimal appearance. A bonded inserts a.k.a. a carpet patch is a repair that requires a matching donor piece of carpet. Sometimes my clients have remnant pieces from the installation. Other situations generally I can source a donor piece from a closet to make the repair. linen closets are great depending on the size. I can even bond in new large sections when the size of the donor pieces permit. With the right precision cutting tools I can craft a high quality repair that has a minimal profile. Regardless of the cause of the damage whether the damage is a bad burn, spill, stain, rip or tear, you name it I can help. This service is a great solution when replacing your carpet is simply out of the question. Atlanta Carpet Repair Expert is the best company to call for carpet patching because we specialize in them, bringing you the best price's in return. Other companys out there especially carpet cleaners who mostly overcharge want you to believe that repairing your carpet is a premium service. Atlanta Carpet Repair Expert has been bringing Metro Atlanta a higher quality and more affordable solution to carpet damage. Call today and I will gladly help thank you.
Carpet Seam Repair. Alot of times carpet seams need repair due to poor installation skill. Certain types of carpets and backings require different steps to ensure a wearable lasting bond. With my experience and skill you can be sure I can get your seam work right my first time..