Atlanta Carpet Repair & Carpet Stretching Expert 678-860-2819
Atlanta Carpet Repair Expert 678-860-2819
*Carpet Stretching & Reseaming
*Carpet Patching
*Berber Specialist
*Pet Damaged Carpet Repair
Welcome to Atlanta Carpet Repair Expert. I am pleased to announce Metro Atlanta has a specialist that can help everyone solve their worst carpet issue's. 
Atlanta Carpet Repair Expert is not some division of a division style of company. Carpet is the only thing I do and I do it well. My 23+ years of wide ranging experience in the textile flooring industry has given me the most in-depth experience needed to do the highest quality carpet repair work in Atlanta.
My philosophy is simple.
Be fair and honest with my clients and provide the best possible carpet options for their particular needs. I back this up with the guarantee that all my work is done to your satisfaction and mine. So if you are having a carpet related issues and need expert help. Feel free to contact me at any time and consult with me about it and we can discuss the possible solutions. I am a independent professional industry veteran with over 23 years experience. I absolutely promise you that you wont find a better professional to do the job. I have fixed over a thousand situations where the carpets were damaged by rips, were torn, have burns, bad spills, bad stains, pet damage, (dog, cat, rabbit, ferrit, parrot) bad seams, pulled loops, poor installation, water damage reinstallation & water damage repair, rippling, carpet waves, carpet patch otherwise known as a bonded insert, buckling, remodeling issues, moved wall lines you name it. Its not a problem for me if the carpet is Berber, patterned, sculptured, cut pile, wilton, woven, axminster, action back or even a natural like wool, seagrass and or sisal. I also can repair commercial direct glue down carpets. I have all my own tools and I can do the job right. So whether it is a investment property, rental, work place or home. Avoid the unnessacery higher prices with my help. Because of the level of skill thats needed other companys see carpet repairs as a premium service. Atlanta Carpet Repair Expert has the highest quality carpet repairs for the most affordable price because thats all I do. I do all my own work never any sub contractors, like many others. All open areas are installed or repaired using a new top of the line crane power stretcher. Don't settle for someone just knee kicking your carpet that simply will not fix it. I am very proud to call myself the local guy. As always I look forward to speaking with you best regards and thank you.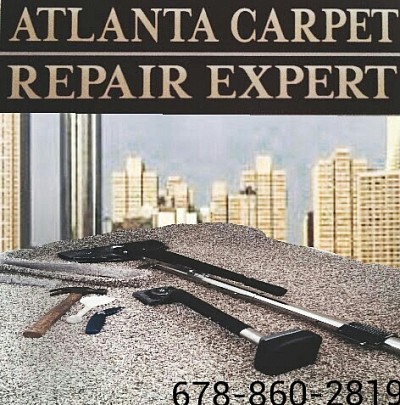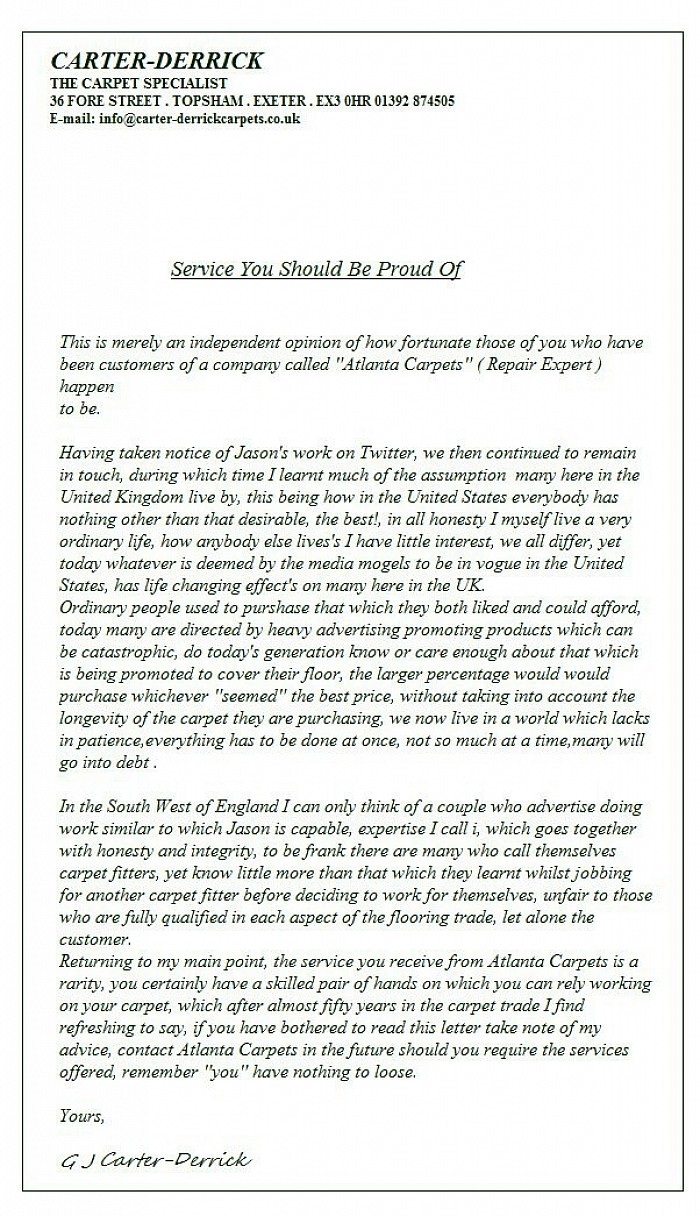 Truely a great honor to be recognized & recommended by the textile flooring industry leader and legend Carter-Derrick Carpets.